Can Warby Parker Grow its 7% Slice of the Eyewear Market?
Warby Parker is the latest direct-to-consumer company planning to go public. We reviewed statements made in the company's S-1 and compared them with Earnest spend data, analyzing how Warby Parker has performed in the eyewear market among competitors like Lenscrafters, Sunglass Hut, and Zenni. We also looked at which eyewear companies have been most successful in retaining existing customers while attracting new buyers.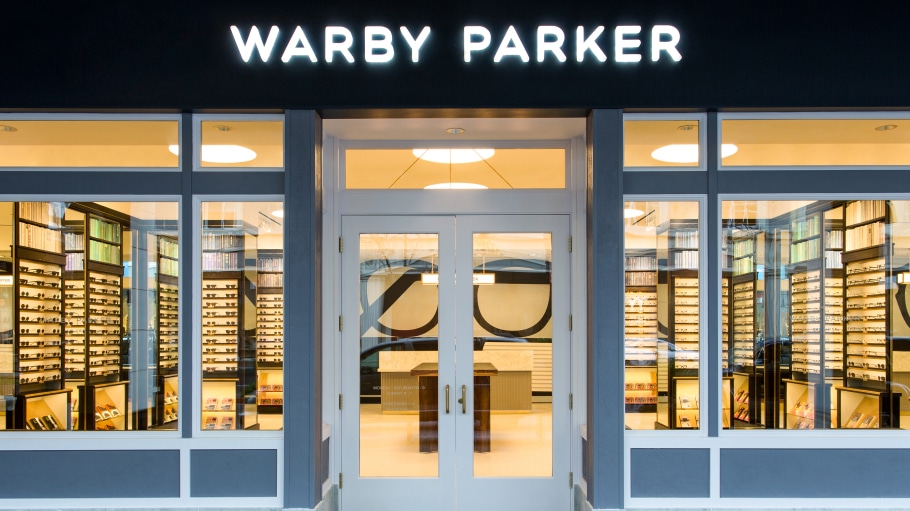 Key Takeaways
Warby Parker's market share has grown from 4% at the beginning of 2017 to 7% today, while incumbent EssilorLuxottica (owner of multiple brands including Sunglass Hut and Lenscrafters) maintains 39%, down from a peak of 51%.
Customers are increasingly returning to Warby Parker, shrinking the brand's reliance on new customers. In context, mature brand Sunglass Hut is still acquiring new customers, while more affordable Zenni Optical is most reliant on its returning customers.
In line with its mission, Warby Parker remains one of the more affordable eyewear brands, with an average spend per customer of slightly above $200. Customers of competitors Lenscrafters and Cohen's spend over $300 on average, while customers of the affordable Zenni spend less than $100.
---
Warby Parker holds 7% of market share, while eyewear conglomerate EssilorLuxottica maintains just under 40%
"The eyewear market consists of a fragmented retail channel with an imbalance of asset concentration and significant markups. We are in direct competition with large, integrated optical players that have multiple brands and retail banners, such as EssilorLuxottica and VSP."

Warby Parker S-1
As highlighted in Warby Parker's S-1, today's eyewear market is both fragmented under many brands, but also highly concentrated among the well-known French/Italian conglomerate EssilorLuxottica, which controls 39% of the market; their biggest banners include Lenscrafters and Sunglass Hut, each with 13% share, and Oakley with 7%, as of July 2021. 1-800-Contacts, while mostly a contact lens retailer commands 13% of the market, and is a notable incumbent given Warby Parker's recent entrance into the contact lens business in 2019 (contact lens sales accounted for 2% of Warby Parker's net revenue in 2020 per the S-1). Warby Parker's 7% share, nearly double from 2017, highlights their minority slice of a fragmented pie, as well as the opportunity for further growth.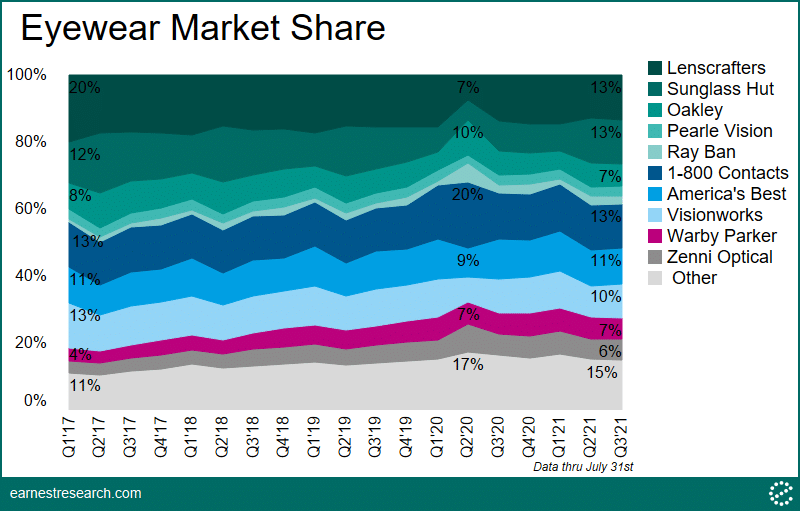 Warby Parker's customers are increasingly returning to the brand, but no-frills competitor Zenni relies more on repeat purchases.
"Our consistent retention rate is also reflected in the mix of our Active Customers. The proportion of returning customers has steadily increased each year as customers return to purchase."

Warby Parker S-1
Warby Parker's S-1 states a shrinking reliance on new customers and a growing mix of returning customers over time, with the company reporting 42% of its customer base were repeat customers in 2020, up from 38% in 2019. Earnest data corroborates a steady increase of returning customers since 2017, which has now reached close to an even split between new* and returning customers as of June 2021**.
How does Warby Parker's customer mix stack up against its competitors? Luxottica's Sunglass Hut, a fifty-year old brand, is impressively still acquiring new customers, with 60% of its base new to the brand in Q2 2021. Lenscrafters and America's Best each have a reasonably more mature 60% to 40% split of repeat vs new customers. Cheaper direct-to-consumer alternative Zenni has the highest share of repeat customers at just under 70%, highlighting its heavier reliance on its existing customers, as well as its shrinking ability to acquire new ones to date.
Warby Parker is more affordable than most competitors
"We offer simple, unified pricing often at a fraction of the price of many of our competitors, making the purchase process transparent, easy, and affordable"

Warby Parker S-1
The founders of Warby Parker created their brand 11 years ago because "[they] couldn't understand why glasses were so expensive." This commitment to affordability has helped Warby Parker maintain an accessible ​average customer spend of about $200, slightly lower than America's Best, Sunglass Hut, and Visionworks, and well below more expensive competitors like Lenscrafters and Cohen's Fashion Optical, where customers spent​ over $300 on average. Luxottica's luxury brand Oliver Peoples leads the category at $640 while affordable DTC brand Zenni bottoms out at less than $100.
We'll continue monitoring the eyewear market as Warby Parker works to grow its average revenue per customer through enhanced telehealth offerings, at-home try on programs, and introducing new functionality and product offerings, as outlined in their S-1.
---
Notes
*Earnest defines a "new" customer as one who has not patronized the particular retailer since Jan. 1, 2016. Warby Parker's S-1 mentions an interesting industry statistic: the average repurchase cycle for a pair of eyeglasses is two to three years.
**There are several reasons Earnest data may differ from reported figures, including a different set of assumptions and definitions of metrics, as well as geographic and/or channel differences within the Earnest panel.